Coaching Books and Essays
---
Coaching: Evoking Excellence in Others
by James Flaherty
Coaching: Evoking Excellence in Others is an insightful, thought-provoking guide that dissects the art and science of coaching.
Beginning with theories, concepts and models, the book moves on to consider rigorous methods of practice and self-observation in a relationship of mutual trust, respect and freedom of expression. It will probe you to rethink how you relate to your clients and your staff, how you produce long-term excellent performance in yourself and how you can become more effective in helping others to achieve their goals.
This third edition includes a new chapter on communication and a new central case study that runs throughout the book to illustrate the impact of the themes and concepts discussed in the book.
Coaching: Evoking Excellence in Others is for both new and experienced coaches who want to expand their methods of partnering with clients. It is also an inspiring guide for training managers and leaders, human resource development managers and general managers who want to develop their teams.
"James Flaherty brilliantly dissects both the art and science of coaching—one of the more difficult and least understood roles in organizations … A better book on this subject just doesn't exist."
— Jerry I. Porras, Graduate School of Business, Stanford University
"This is a no-nonsense, generous, pragmatic book that belongs on the shelf of every coach, novice or veteran."
— Richard Strozzi-Heckler, Ph.D., founder of Somatic Coaching and author of The Anatomy of Change
Price: $35.00 (includes shipping within U.S.)
Bringing Your Voice to the World: Essays by Integral Coaches
Edited by: New Ventures West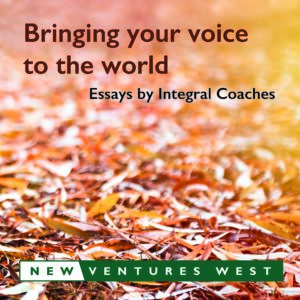 This engaging booklet contains a series of eight essays by New Ventures West faculty and graduates reflecting on how we can bring greater depth, mindfulness and authenticity to our own lives, our communities, and our work with clients. It evokes the depth and range of Integral Coaches' inquiry into life and is a tangible way to discover—or be reminded of—the power of this work. It can be a resource for deep reflection, inspiration, or guidance for you and others in your life.
Price: $5.00 (includes shipping within U.S.)
Digital Resources
Recording of Graduate Update Seminar: The Ten Ways
Available Now.
Price: $45.00