Coaching as a Structure and Process

Coaching has direction and intention shared by client and coach—sometimes vague (e.g. "I want to move towards more spaciousness in my life"), sometimes exact (e.g. "My goal is to expand my business by 15%"). The shared possibility is nonetheless a distinguishing characteristic of coaching. It's an attribute that defines coaching as a discipline separate from traditional psychotherapy, open-ended inquiry, objectless meditation, and many other approaches to human development/unfoldment.
For example, when I meet my Zen teacher, someone I've known and worked with for over 25 years, he always asks, "What do you want to bring up today?" as if we had no history. In that moment I can open my awareness and meet the response to his question. The warm, expansive openness of his presence affords me the chance to bring up whatever is there. I cherish these moments, much becomes clear, a lot releases—but I would not call this coaching.
The shared declared possibility is the starting point and can be uncovered through conversation, opening to felt sense, study and contemplation, among many methods. These are already structure, and they result in the formal beginning point of coaching: more structure.
Timing, duration, medium of contact, and financial arrangements form structure as well. They form the container and boundary that make coaching possible.
At the same time, all these individuated steps can be seen as a process arising at a particular time, within an individual relationship. Preemptively insisting ahead of time what exactly must occur as a result of these steps distorts and limits them as process—and only beginner coaches and self-doubting practitioners would do that.
Anxious and/or very beginner coaches do lots of insisting, in fact. Through temperament or lack of experience they don't trust what's occurring and impose rigid elements instead.
Through practice and reflection, though, beginners can evolve into coaches who can alternate initiating and following, questioning and speaking up, offering and receiving. In other words, they discover how to step into a situation where both process and structure have their place. Over time they become ever more discerning about when and how to engage each. (Folks who are temperamentally anxious can work with their nervous system, inner dialogue, body self-care, and relational holding as ways to settle themselves so that they can be more responsive, interactive, creative and curious in a coaching session.)
Coaching as pure process would leave nothing when the session was done. Whatever was experienced during that time would be the point of doing it.
Coaching as pure structure would be crude, likely hurtful and dismissive of the client's gifts and humanity.
Best as a blending of the two, coaching is guided by what will initiate, support and sustain the client's development and flourishing.
Where do you come out in all this?
Do you prefer structure or process more?
How does your preference guide your coaching?
And what effect does that have on your client? On you? On the coaching relationship?
More on this topic in the practice, book, and poem of the quarter.
Take care of yourself.
Sending love,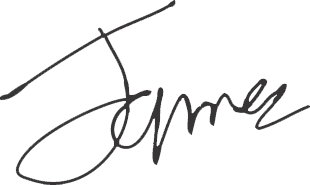 PRACTICE OF THE QUARTER

Focus: Structure or Process
The purpose of this exercise is for you to clarify your preference for structure or process in your life. Please be open to finding out that what you may have already concluded about yourself is inaccurate. Also please take good notice of what you prefer in different domains of your life.
Please do this exercise for 30 to 45 days. Please stop two or three times per day and ask yourself the following questions. Please write out brief answers so that you can begin to notice patterns.
During this period of time:
When did I initiate, rely on, show preference for or act to sustain structure? How did that make sense to me at the time?
When did I start, continue, join in, insist on process? What was I up to in doing this?
What happened to me, to others, to the situation, or to my plans from what I did with structure or process?
What will I take up, put down or adjust from what I learned in this exercise?
POEM OF THE QUARTER
The Eighth Elegy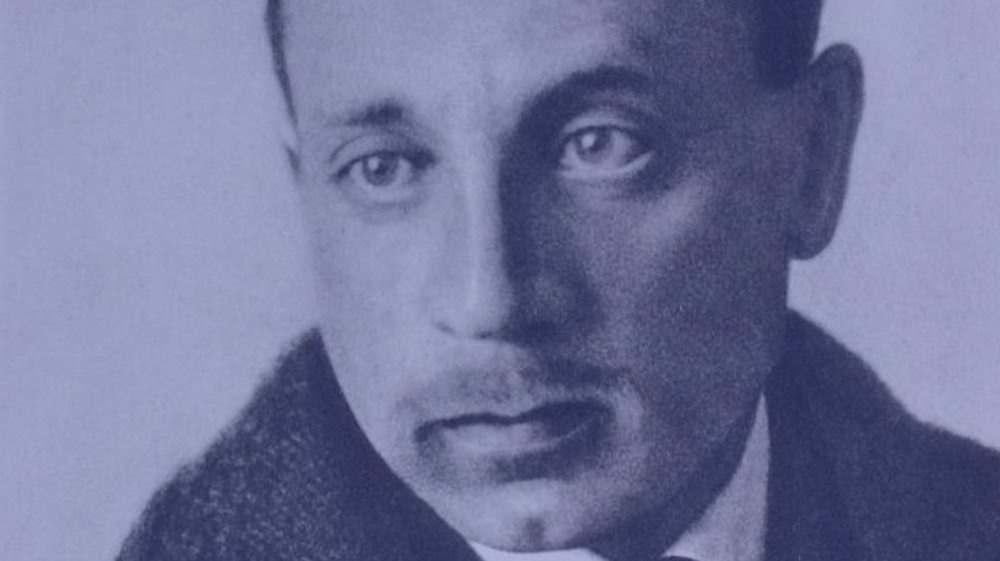 With all its eyes the natural world looks out
into the Open. Only our eyes are turned
backward, and surround plant, animal, child
like traps, as they emerge into their freedom.
We know what is really out there only from
the animal's gaze; for we take the very young
child and force it around, so that it sees
objects—not the Open, which is so
deep in animals' faces. Free from death.
We, only, can see death; the free animal
has its decline in back of it, forever,
and God in front, and when it moves, it moves
already in eternity, like a fountain.
Never, not for a single day, do we have
before us that pure space into which flowers
endlessly open. Always there is World
and never Nowhere without the No: that pure
unseparated element which one breathes
without desire and endlessly knows. A child
may wander there for hours, through the timeless
stillness, may get lost in it and be
shaken back. Or someone dies and is it.
For, nearing death, one doesn't see death; but stares
beyond, perhaps with an animal's vast gaze.
Lovers, if the beloved were not there
blocking the view, are close to it, and marvel…
As if by some mistake, it opens for them
behind each other… But neither can move past
the other, and it changes back to World.
Forever turned toward objects, we see in them
the mere reflection of the realm of freedom,
which we have dimmed. Or when some animal
mutely, serenely, looks us through and through.
That is what fate means: to be opposite,
to be opposite and nothing else, forever.
If the animal moving toward us so securely
in a different direction had our kind of
consciousness—, it would wrench us around and drag us
along its path. But it feels its life as boundless,
unfathomable, and without regard
to its own condition: pure, like its outward gaze.
And where we see the future, it sees all time
and itself within all time, forever healed.
Yet in the alert, warm animal there lies
the pain and burden of an enormous sadness.
For it too feels the presence of what often
overwhelms us: a memory, as if
the element we keep pressing toward was once
more intimate, more true, and our communion
infinitely tender. Here all is distance;
there it was breath. After that first home,
the second seems ambiguous and drafty.
Oh bliss of the tiny creature which remains
forever inside the womb that was its shelter;
joy of the gnat which, still within, leaps up
even at its marriage: for everything is womb.
And look at the half-assurance of the bird,
which knows both inner and outer, from its source,
as if it were the soul of an Etruscan,
flown out of a dead man received inside a space,
but with his reclining image as the lid.
And how bewildered is any womb-born creature
that has to fly. As if terrified and fleeing
from itself, it zigzags through the air, the way
a crack runs through a teacup. So the bat
quivers across the porcelain of evening.
And we: spectators, always, everywhere,
turned toward the world of objects, never outward.
It fills us. We arrange it. It breaks down.
We rearrange it, then break down ourselves.
Who has twisted us around like this, so that
no matter what we do, we are in the posture
of someone going away? Just as, upon
the farthest hill, which shows him his whole valley
one last time, he turns, stops, lingers—,
so we live here, forever taking leave.
BOOK OF THE QUARTER
The Polyvagal Theory in Therapy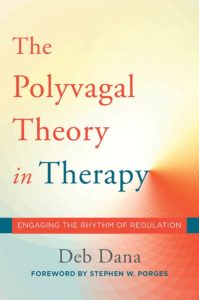 Please don't be discouraged by the word "polyvagal." It simply refers to two aspects of the vagus nerve, which originates in our cranium and branches out into our throat, heart, lungs and viscera.
The nerve has many functions, including helping regulate our heart rate. It's 80% afferent, which means it mostly sends impulses to the brain, as distinct from receiving them from there. The brain uses what it receives from the vagus nerve to determine physical and social safety—are the people around us dangerous are not?
Besides helping regulate the heart, one branch of the nerve totally closes our body down under severe threat; it's the equivalent of human beings playing dead and only happens as the body's last protective response.
Another branch of the vagus attunes to our social surround and adjusts our nervous system accordingly so we are more aware of social danger and the sights and sounds that accompany it. Intriguingly, when no danger is detected in human interaction, the nerve tends to be more receptive to the human voice.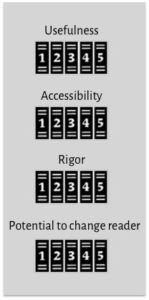 All this and more was originally brought to the world by Stephen Porges, a bold and original scientific researcher. His original book, written to establish his theory, is extraordinarily complex and dense. It's not really usable for a practitioner who works with human development.
Deb Dana's book, on the other hand, is clear, accessible, and generous with examples and exercises—perfectly assembled for the ready use of therapists, coaches and others in similar professions. Ms. Dana is a researcher and therapist herself and can easily step into each realm to make Dr. Porges's groundbreaking discoveries understandable and usable.
Perhaps most useful for us Integral Coaches, she explicitly connects the condition of the body with the stories the brain originates to make sense of them. So often we imagine there's something in the outside world to fix or attend to, when in fact it's our body that is stirred up, triggered.
I've been relying on this book, referencing it continuously since I first read it. I highly recommend you take it up as a serious study as it will clarify immediately many issues that arise in your own life and your work with clients.
A deeply human treasure trove of insights and approaches that bring the reader deeply, directly into what it means to be an embodied human being.
-- James Flaherty
NEWS & UPDATES
A Decade of Keeping Things Running
Production Supervisor Michael Cabanlit recently celebrated his 10-year anniversary on staff. For the past decade, Michael has been working tirelessly behind the scenes, maintaining our San Francisco classroom and offices; booking venues for myriad out-of-area classes, certifications and special events; producing endless course materials; liaising with vendors; and countless other tasks that keep our little company chugging. We don't know how he does it, but we hope he keeps it up for another ten years! Please join us in celebrating Michael and his valuable contribution to NVW.
NVW AROUND THE WORLD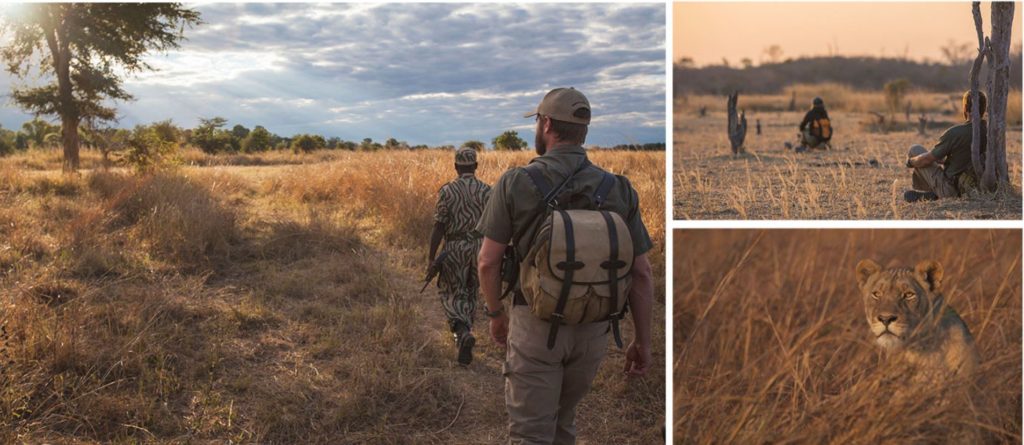 Zambian Wilderness Coaching Masterclass
In November, Primal Pathways and the Centre for Coaching are offering a unique Wilderness Coaching Masterclass in one of Africa's most remote and untouched wildlife sanctuaries. Craig O'Flaherty, Janine Ahlers and Brent Harris will lead a life-changing wilderness immersion, delving into the transformative perspectives of nature, deep in the vastness of North Luangwa National Park. Limited to a group size of six, this experiential journey is a rare opportunity to encounter the undisturbed purity of the African wilderness, accompanied by a sensitive, insightful guide and two of the continent's most sought-after coaches. The program offers 40 CCEUs.
Learn more.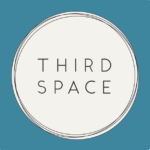 New Podcast from our Partners
Turning Towards Life, a weekly conversation hosted by Lizzie Winn and Justin Wise of thirdspace coaching in London, is now available as a podcast on both iTunes and Spotify. This wide-ranging discourse on our experience as human beings happens every Sunday morning—you can join the Facebook group  any time to be part of the live conversation. And be sure to check out thirdspace's lovely new website!
Dynamiser votre leadership à travers le coaching

La capacité d'inspirer les autres, de libérer leur potentiel et d'encourager leur innovation est essentielle pour être un leader efficace, ainsi que pour tous ceux qui interagissent régulièrement avec autrui. Acquérir les techniques de base sur la façon de coacher les autres est un ajout puissant aux compétences de tout dirigeant. Dans ce cours, vous apprendrez les bases du coaching et la gestion par le coaching lorsque la situation le requiert. En savoir plus.

GRADUATE NEWS
Letter from the Graduate Department
Dear graduates,
The PCC leader body recently gathered for our annual retreat, this year near Québec City, where we work to deepen our relational field and inquire into how to steward our work in the world.
One of the genesis points for Integral Coaching was and continues to be a holistic, healing and empowering response to our world. It is a dynamic and ever-unfolding response arising from the confluence of who we are and the world in which we find ourselves.
One need not look very far in our news headlines and political discourse to see the prominence of discussion and [dis]interest in power dynamics and inclusion. Finding ourselves in this zeitgeist, the leader body is also looking into how these underlying principles are at play with us individually and collectively. In our latest retreat we experienced a newfound unfolding of our collective inquiry and learning around this subject. It is a humbling endeavor, and we step in as eager learners.
We write all this share with you one aspect of how we as faculty—and by extension the Integral Coaching methodology—continues to evolve in its endeavor to meet the world's longing with love and support.
With love,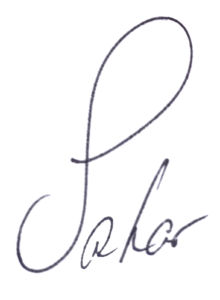 Sahar Azarabadi and Adam Klein, Graduate Directors
In Memoriam
Sarvenaz, a 2018 graduate of the PCC, passed away in February at the age of 39 after a long illness. Sarvenaz moved to the US from Tehran, Iran, at the age of 15. She attended UC Berkeley as an undergraduate and obtained her JD from Stanford Law School in 2005. In addition to her work as a corporate lawyer she provided pro bono legal services to immigrants and refugees, continuing to do so through her illness. She leaves behind countless loved ones including her husband Mike and six-year-old daughter Kiara. You can read her full obituary, including ways to honor her memory, here.
Grad Refresher
This fall James Flaherty will host a three-hour webinar intended to reacquaint you with the methodology and share what's new. For this inaugural event we'll be studying the Ten Ways. Regardless of how long ago you finished the PCC, this event will reacquaint you with this aspect of the method, introduce you to the new names for each of the levels, and deepen your understanding of how to use the model in your client assessments.
September 5 at  9 am PT (5 pm BST) for the Americas and Europe/Africa
September 10 at 5 pm PT (8 am SGT Sept. 11) for the Americas and Asia
Registration opens soon!
Learn more
Congratulations and Welcome to Our New Graduates!
Jill Barrett, Washington, DC, USA
Fran Benjamin, San Francisco, CA, USA
Caroline Bindner, Marseilles, FRANCE
Todd  Boone, San Francisco, CA, USA
Benoit Bousquet, Longueuil, QC, CANADA
Peggy Boustany, Montréal, QC, CANADA
Marie-Claude Brais, Laval, QC, CANADA
Bob Clemens, Columbia, MD
PhilDi Loreto, Montreal, QC, CANADA
Michelle  Doan, Washington, DC, USA
Lisa Gaeto, Philadelphia, PA, USA
Eddah General, Sunnyvale, CA, USA
Eveline Gosselin-Picard, Mont St-Hilaire, QC, CANADA
Kirsten  Hansen, Salt Lake City, UT
Robert Héroux, Longueuil, QC, CANADA
Ron Hoyle, Walnut Creek, CA, USA
Peter Jacobs, San Francisco, CA, USA
Amanda Karst, Darnestown, MD, USA
Jennifer Lalime, Portland, OR, USA
Caroline Lampron, Outremont, QC, CANADA
Filomena Leonardi, New York, NY, USA
Nadia Maufe, San Francisco, CA, USA
Erin Misegades, League City, TX, USA
Ryan Newcomb, South Lyon, MI, USA
David Pope, San Francisco, CA, USA
Lenn Pryor, San Francisco, CA, USA
David Rosenheim, Pacifica, CA, USA
Julia  Rosof, Oakland, CA, USA
Shaun Ryan, McLean, VA, USA
Ellen Sagmyr, Bozeman, MT, USA
Dominique Sarny, Regina, SK, CANADA
Marrie Schaefer, Sisters, OR, USA
Kristen Scully, San Francisco, CA, USA
Ivan Sierra, St-Lambert, QC, CANADA
Deirdre Soraci, Bethesda, MD, USA
James Staton, Alexandria, VA, USA
Maude St-Cyr Bouchard, Montréal, QC, CANADA
Heather Stickney, Lyndeborough, NH, USA
Steffany St-Laurent, Chelsea, QC, CANADA
Stryk Thomas, Potomac, MD, USA
Linda Tobia, Auburn, CA, USA
Susannah Toy, Greenbrae, CA, USA
Véronique Trempe, Montréal, QC, CANADA
Laura Welch, New York, NY, USA
Johanna Wikblom, Arlington, VA, USA
Nora Ziegenhahn, Los Altos Hills, CA, USA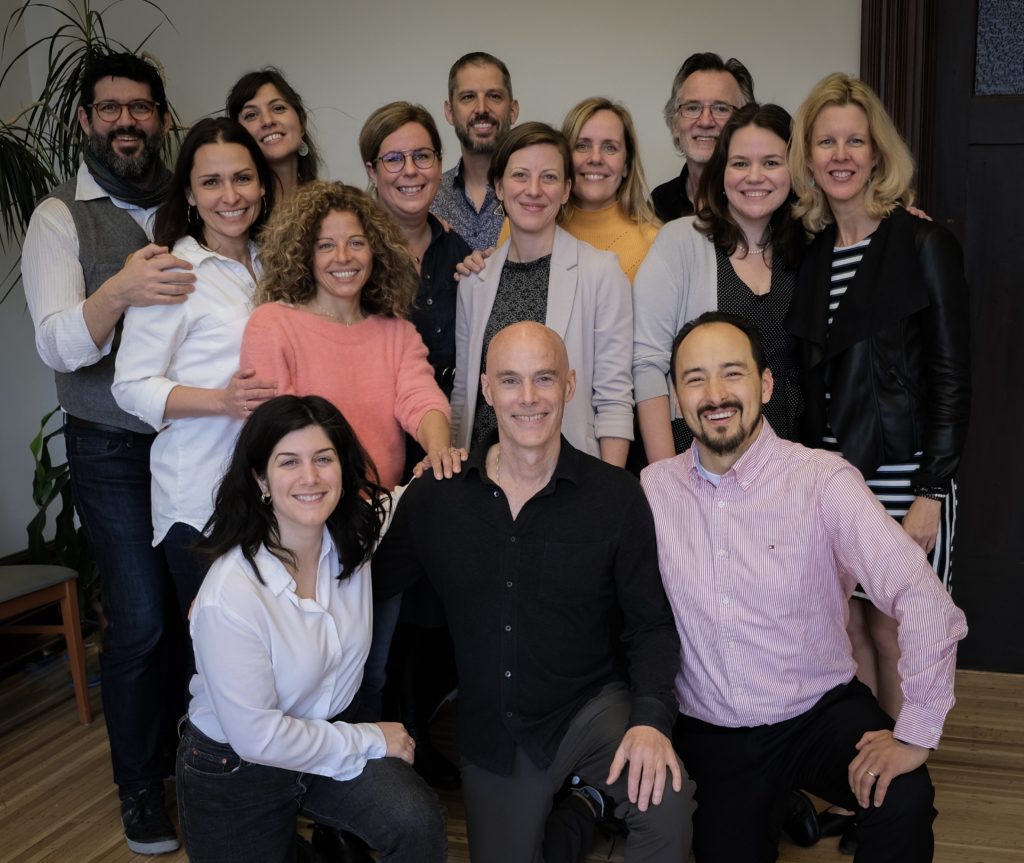 The  graduates and faculty of Programme de formation des coachs professionnels "K" in Montréal celebrate in April
COURSE CALENDAR
Upcoming Courses
View the full course calendar here.